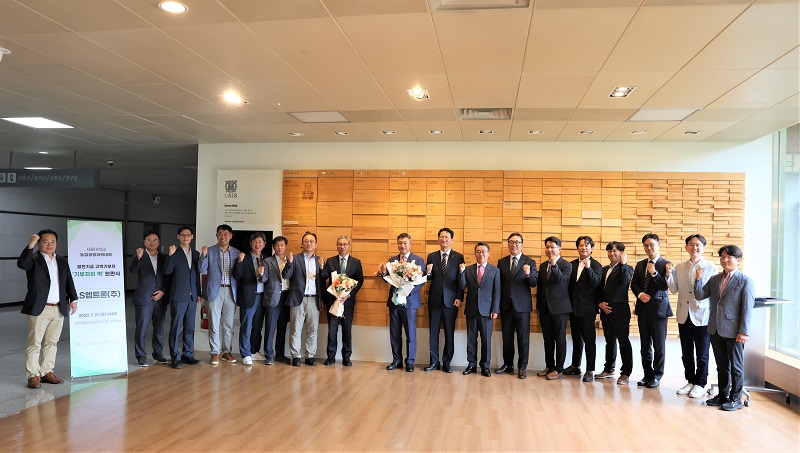 Executives and employees from LS Mtron and the involved parties from CALS at SNU take a group photo in front of the Donors' Wall.(CALS at SNU Dean Jang Pan-Sik, 8th from the left; LS Mtron President Shin Chai-Ho, 9th from the left.)
■ LS Mtron was selected as a major donor by donating KRW 700 million to the College of Agriculture and Life Sciences at Seoul National University (CALS at SNU) to contribute to the future development of advanced digital agricultural technology and academics
■ To reinforce LS Mtron's self-driving tractor and digital research, the self-driving test site, driving route, and researchers' office were moved to the site of CALS at SNU located in Suwon
■ President of LS Mtron Shin Chai-Ho said, "Our self-driving tractor can go straight, turn, and do work by itself, and is currently leading the advancement of agriculture in the Republic of Korea." He added, "Together with Seoul National University, we strive to become a company that can implement data-based digital agriculture and provide solutions for customers by promoting the development of the platform for precision agriculture, including the self-driving tractor."

LS Mtron (President Shin Chai-Ho), a company under LS Group that specializes in industrial machinery and high-tech parts, announced on the 27th that it was selected as a major donor and participated in the signboard hanging ceremony called "Donors' Wall" at CALS at SNU. In attendance were 28 people, including Dean of CALS at SNU Jang Pan-Sik, Research Department Manager Yang Tae-Jin, Planning and Strategy Business Unit Head Ryu Young-Ryeol, President of LS Mtron Shin Chai-Ho, and Business Unit Head Lee Sang-Min.

The "Donors' Wall" is a space created to commemorate people and companies that made donation development funds to CALS at SNU, and is used to express gratitude for donors by placing donor nameplates on the second-floor lobby wall of CALS.LS Mtron donated KRW 700 million to CALS at SNU to contribute to the future development of advanced digital agricultural technology and academics.The event was emceed by Planning and Strategy Business Unit Head Ryu Young-Ryeol, and continued with a greeting from Dean of CALS at SNU Jang Pan-Sik, a speech from LS Mtron President Shin Chai-Ho, a ceremony for putting the nameplate on the wall, and receipt of a plaque and a gift, before finishing with a commemorative photo.

LS Mtron signed an MOU with SNU in September 2022 for the development of smart agriculture and self-driving agricultural machinery. On July 14, 2023, to strengthen research on digital agricultural tractors, the test site and researchers' office of the Bongdam Research Center were moved to the site and office of CALS at SNU, located in Suwon.Recently, LS Mtron and SNU also launched a mid- to long-term joint project to develop a data-based digital agricultural production system.

At this event, LS Mtron President Shin Chai-Ho said, "LS Mtron's self-driving tractors can go straight, turn, and even work on their own, and are leading the advancement of agriculture in the Republic of Korea. We will promote the development of precise agriculture business, including self-working tractors, together with Seoul National University in order to build data-based digital agriculture and become a company that provides solutions to customers."